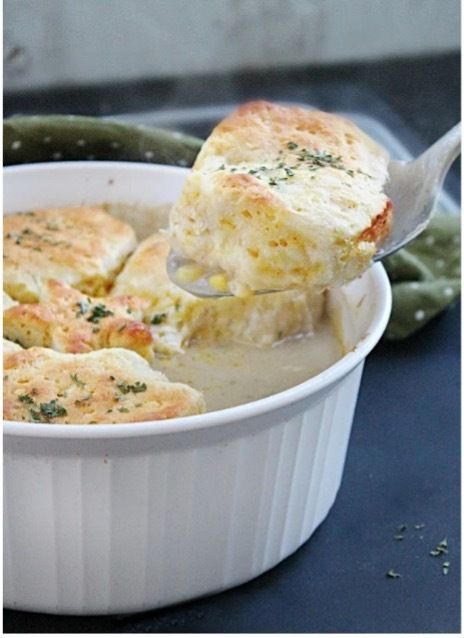 Prep Time 30 minutes
Cook Time 20 minutes
Total Time 50 minutes
Ingredients
3 cups chicken, cooked and shredded or chopped (canned or pulled leftovers)
2 cups chicken broth
2 cups low-fat milk or fat-free half and half
1/4 cup butter
1/3 cup all-purpose flour
1 tsp thyme
1/2 tsp onion powder
1/2 tsp garlic powder
1 1/2 cups frozen mixed veggies (peas and carrots or mixed vegetables)
6-8 refrigerated biscuits, low-fat
Instructions
Preheat oven to 375 degrees. Spray a deep baking dish lightly with nonstick cooking spray.
In a saucepan, melt butter. Add flour and cook, stirring, for approximately 2 minutes. Then, whisk in chicken broth and milk. Bring broth to a boil, then, simmer for 5-8 minutes or until it is slightly thickened.
Add chicken, veggies, garlic powder, onion powder, thyme, salt, and pepper. Pour mixture into prepared baking dish.
Bake for 10 minutes. Remove from oven and place uncooked biscuits on top.
Bake an additional 12-15 minutes or until the biscuits are brown.
Let the dish cool for 10-15 minutes before serving.
Yield: Serves: 6