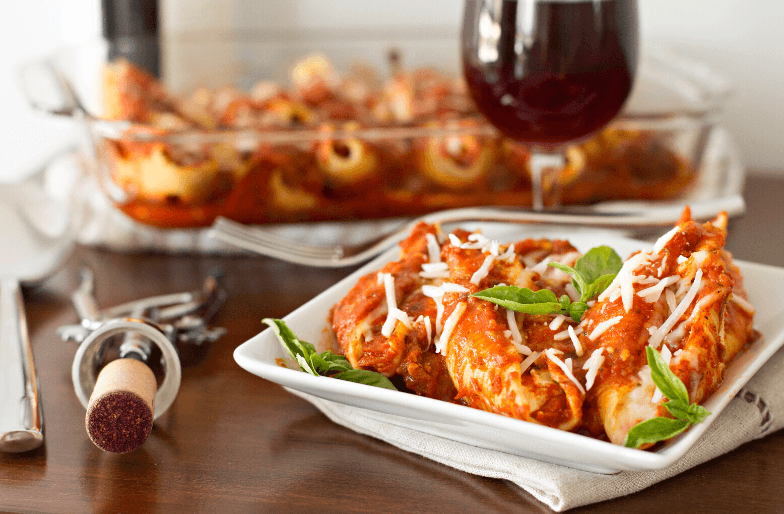 Ingredients 
Salt
8 - 10 oz of Jumbo Pasta Shells
1 lb container of Low Fat Cottage Cheese 
1 Large Egg
Black Pepper
8 oz Parmesan Cheese, Grated
2 Jars, Marinara Sauce
1 cup Mozzarella Cheese
Garlic Bread 
Optional Ingredients:
Sautéed onions
Garlic
Parsley
Italian seasoning
Basil
Oregano,
Preferred side salad ingredients 
Directions 
Preheat the oven to 350 degrees F.
Blend cottage cheese, then add egg and blend until even.
Add salt, pepper, and Mozzarella cheese to Cottage cheese and egg mixture, and mix everything together in a large bowl.
Boil pasta shells in salt water. After cooking, place pasta shells in cold water to stop the cooking process for about a minute, and then drain water. (This will keep shells from being mushy)
Optional to add flavor to marinara sauce*

Sauté onions with olive oil. Add Sautéed onions, garlic, parsley, Italian seasoning, basil, and oregano, to a pot of marinara sauce, cook for about 5 min on medium-low heat, and mix. Please view serving size for each spice/ingredient for good measure.

To assemble dish, place marinara sauce into medium-large baking dish. Make sure it coats the bottom evenly. Fill each pasta shell with cheese mixture, and place throughout the whole baking dish. Once the baking dish is filled with stuffed shells, place the remaining marinara sauce over dish. Sprinkle Parmesan cheese and any additional cheeses to your liking. 
Bake for about 25 min, until hot, bubbly, and golden. 
Serve with garlic bread, a side salad, and enjoy!
Wednesday Live Video