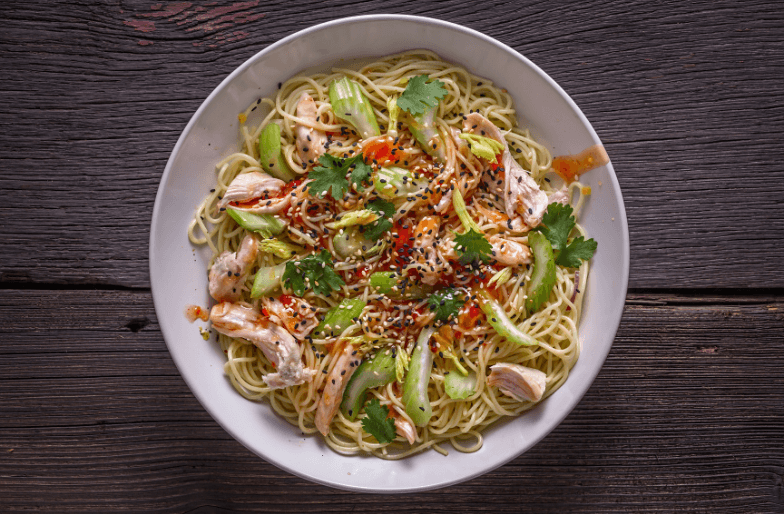 Ingredients
1 spaghetti box
1 tbsp olive oil
6 boneless, skinless chicken thighs (1-inch chunks)
2 cups shredded cabbage
2 carrots, peeled and shredded
2 green onions, thinly sliced
1 red bell pepper, thinly sliced
2 tbsp chopped peanuts 
For the Sauce:
1/3 cup peanut butter
1/4 cup reduced-sodium soy sauce
3 cloves garlic, minced
2 tbsp honey
1 tbsp grated ginger (can be fresh or canned) 
1 tbsp rice vinegar
1 tsp sesame oil
1 tsp sriracha (optional)
Directions
 In a medium bowl, whisk together peanut butter, soy sauce, garlic, honey, ginger, vinegar, and sesame oil.

Sriracha, if used; set aside. 

In a large pot of boiling water, add spaghetti/noodles until cooked.

Drain water when done cooking.

In a large skillet, add olive oil over medium heat.

Add chicken to skillet and cook until golden, about 3-5 minutes.

Add cabbage, carrots, and green onions.

Stir ingredients until heated throughout, 1-3 minutes.

Stir peanut butter sauce mixture onto spaghetti/noodles until distributed evenly.
Serve immediately.

Garnish with peanuts and herbs as desired.
Total Cost: $9.72 - About $1.62/Person
Serves: 6