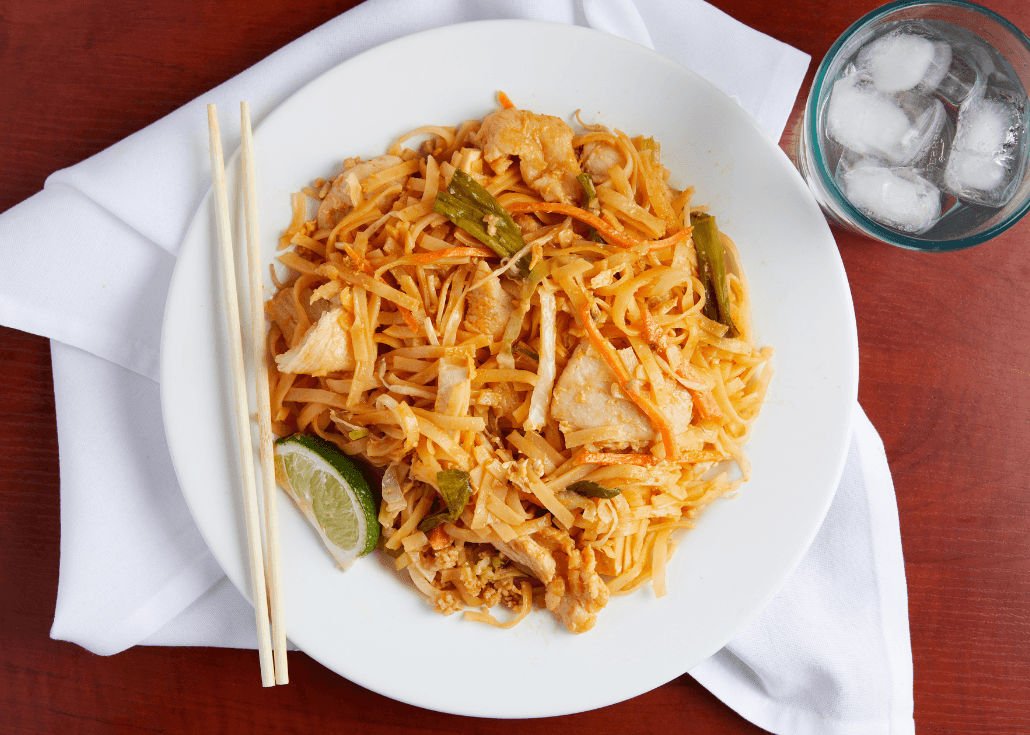 Ingredients 
4 oz dried rice noodles
1.5 Tbsp tamarind paste
3 Tbsp brown sugar
2 Tbsp fish sauce
1.5 Tbsp oyster sauce
2 Tbsp vegetable oil
½ onion, sliced
2 garlic cloves
5 oz chicken breast, thinly sliced
2 eggs
1.5 cups bean sprouts
¼ cup chopped peanuts
Directions
Place noodles in a large bowl, pour over plenty of boiling water. Soak for 5 minutes, then drain in a colander and quickly rinse under cold water. Don't leave them sitting around for more than 5 – 10 minutes.
Mix tamarind paste, brown sugar, fish sauce, and oyster sauce in a small bowl.
Heat 2 tbsp oil in a large non-stick pan (or well-seasoned skillet) over high heat. Add garlic and onion, cook for 30 seconds.
Add chicken and cook for 1 1/2 minutes until mostly cooked through.
Push to one side of the pan, pour egg in on the other side. Scramble using the wooden spoon (add touch of extra oil if pan is too dry), then mix into chicken.
Add bean sprouts, noodles, then Sauce.
Toss gently for about 1 1/2 minutes until Sauce is absorbed by the noodles.
Add half the peanuts. Toss through quickly then remove from heat.
Serve immediately, sprinkled with remaining peanuts and lime wedges on the side, Squeeze over lime juice to taste before eating.
*Adapted from recipe tin eats*