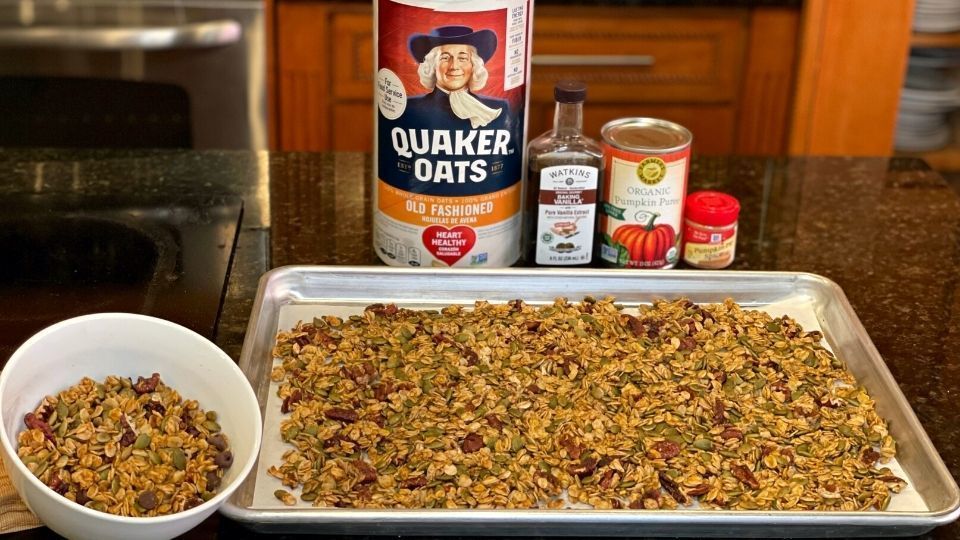 Ingredients:
2 cups old-fashioned oats
1 cup raw pecan halves
1 cup raw pepitas (pumpkin seeds)
1/4 cup maple syrup
1/4 cup melted coconut oil
1/4 cup pumpkin puree (not pumpkin pie filling)
1 1/2 teaspoons pumpkin pie spice, store-bought or homemade
1/4 teaspoon vanilla extract
1/2 teaspoon salt
(optional) 1/2 cup dark chocolate chips
Instructions:
Heat oven to 350°F. Line pan with parchment paper. Set aside.
Combine the oats, pepitas, and pecans in a large mixing bowl. In a separate bowl, whisk together the maple syrup, melted coconut oil, pumpkin puree, pumpkin pie spice, vanilla extract, and salt together until smooth. Pour the wet ingredient mixture over the dry ingredient mixture and toss until everything is evenly mixed.
Spread the granola mixture out evenly on a parchment-lined baking sheet and bake for 20-25 minutes or until golden brown. Remove and let the granola cool until it reaches room temperature (it will harden as it cools). Stir in the chocolate chips (if using).