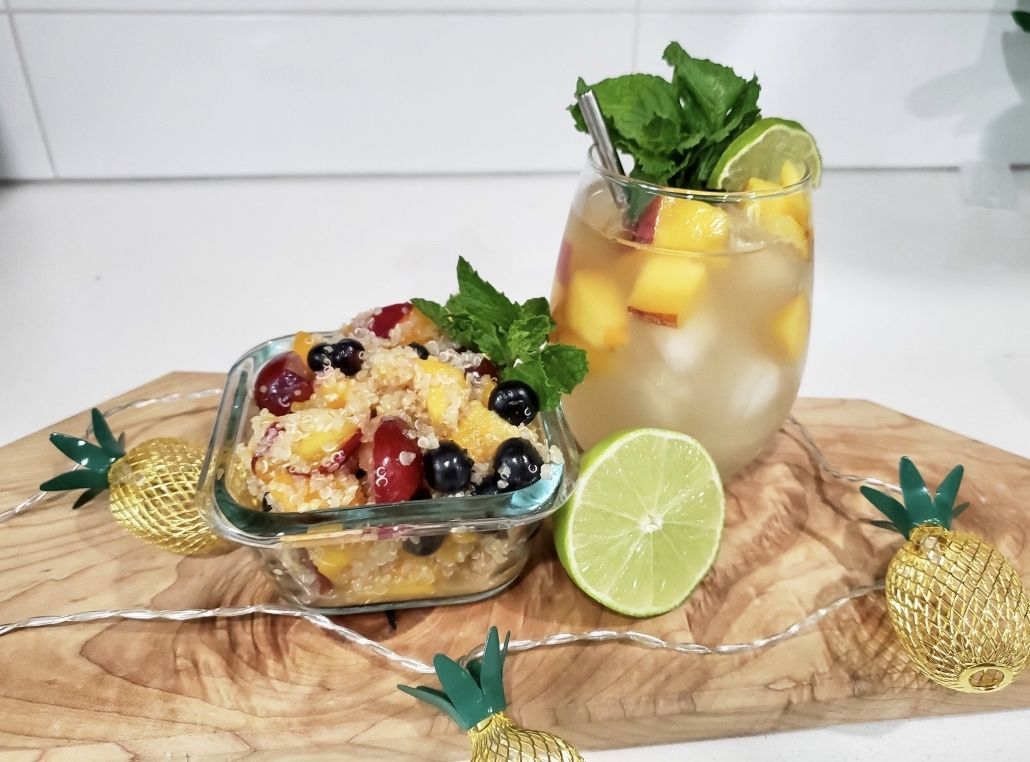 We have two quick Summer tasty treats for you!
Our Registered Dietitian, Celines Martinez, shared these two recipes during our Instagram and Facebook Wellness Wednesday live stream. Make sure you check out the videos posted on our social media platforms, @hebninutrition, or click here. Also, make sure to tune in to our live streams every Wednesday at 11 AM ET.
Now lets get into these recipes!
Quinoa Summer Fruit Salad with Ginger lime Dressing
4 cups of fresh fruits, can also use a combination of canned, frozen and fresh fruit.
1/4 cup of fresh lime juice-zest of 1/2 lime
2 tablespoons of honey
1/4 cup of ginger tea, strongly brewed
fresh mint 
For this recipe I used blueberries cut up mango and peaches, along with grapes cut in half. 
To make dressing mix lime juice and zest with honey and ginger tea.-pour dressing over fruit and mix, at this point you can let the fruit sit in the dressing for 15 to 30 minutes to create more flavor.
Mix in quinoa to fruit and top with fresh chopped mint. Feel free to add other toppings like sunflower seeds or chia seeds for added protein.
*Note if you plan on making ahead of time wait to add mint at the time of serving since it will turn brown.
Sparkling Ginger Tea
Makes two drinks
1 cup of ginger tea*, strongly brewed
Sparkling water or other low calorie carbonated drink-sweetener of your choice. * I recommend the dressing used in the fruit salad (ginger lime dressing). Can also use sweet macerated fruit or your favorite sugar substitute.
fresh mint for garnish, optional
Pour 1/2cup of tea into each cup over ice, then add 1/3 cup of sparkling water or low calorie carbonated beverage of choice.
Top with sweetener of choice to taste-use mint for garnish
*ginger tea was boiling 2 inches of fresh ginger root chopped with two cups of water. Boil for 5 minutes let cool completely and strain, keeps in refrigerator for a long time.
Can also brew ginger tea with ginger tea bags or a combination of tea bags and fresh ginger. 
Enjoy!